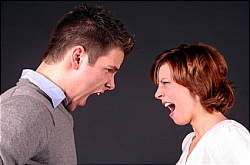 Cultivate Compassion for Negative Coworkers. People who are negative are that way for a reason. They may have difficulties you don't know about. Try to be compassionate and non-judging. If you're a manager, people still need to meet benchmarks, but you don't have to dislike them if they are not cutting it. When you encounter a negative person, you have the choice to either be affected by the negativity or to be the one who influences the other person. It's a decision. Choose to stay positive. Instead of saying (in your head or out loud) "Oh, that Suzy-Q! Her negativity always ruins my day," try thinking "Poor Suzy-Q. She must have some difficulties. I wish her peace. In spite of her negativity I will try to be a positive influence around her."
One way I "cultivate compassion for negative coworkers" is by picturing that person as a toddler.  Then all my potentially explosive anger melts into a nice, manageable little puddle.  I mean, how can you completely lose your temper with a toddler?
Some of you are probably thinking to yourself, "Obviously, she's never had a toddler of her own," and you would be correct.
How do YOU manage difficult co-workers and other difficult people you encounter throughout your day?
-MJ